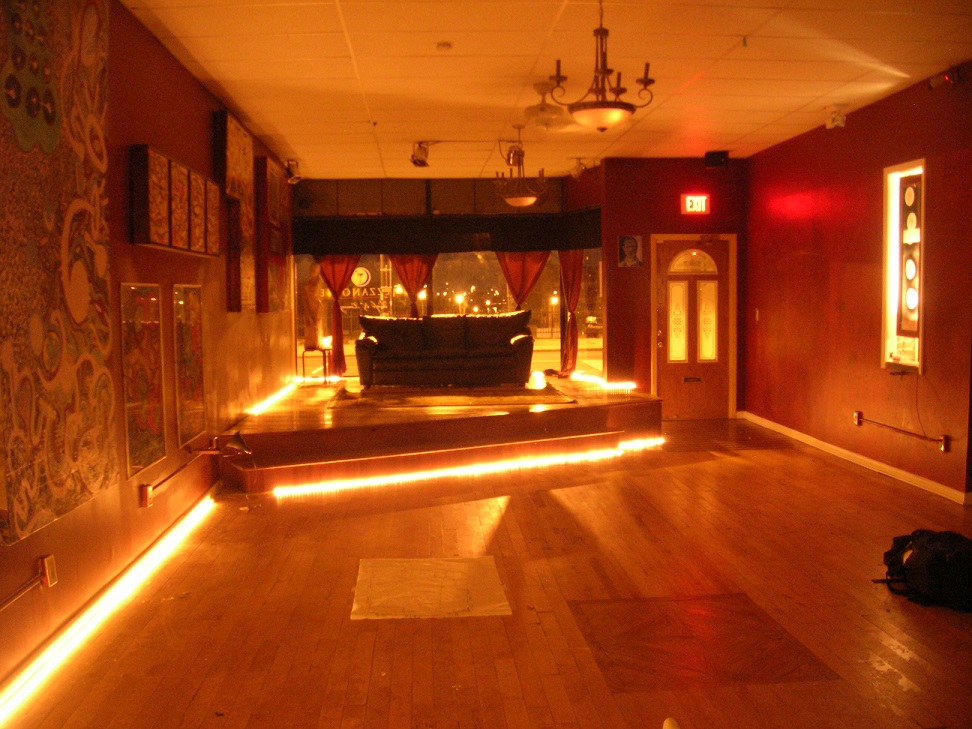 Mezzanotte Lounge & Night Club-(Syracuse NY–2005-2007-Bryan Matthew Boutwell-interior designer/curator/lighting designer/artist) This was a photo taken of me after I had installed the lighting at Mezzanotte. This night club/lounge was one of my favorite projects of that decade. The owner: Eric Mataras hired me to give his club an entirely new look and facelift. He gave me full approval to go ahead and create the vision that I saw it having. I remodeled the place from the floor to the ceiling. At the time I was also representing 100 different local visual and performing artists in NY. I wanted to build an atmosphere and ambiance that was based souly around art and warmth.
I decided that lighting and abstract art would fill this nightclub from top to bottom. I refinished the oak flooring, designed and sewed the curtains, installed the floor lighting, accent lightening, and drilled more than 100 tea light candle holders into the walls throughout both floors of the club. I hung more than 75 pieces of art throughout the place. 
I had photographic tapestries hanging form the rafters, abstract paintings in the bathrooms, sculptures, and instillations scattered throughout the place. My aim was to create an environment that touched the soul in a gentle and intriguing way. I wanted to create an atmosphere that made people want to communicate with each other.
I would come into Mezzanottes every Friday and Saturday evening and light all of the 100 tea-light candles myself. I'd walk through the club at night making sure all the art looked perfect and indulged in thousands of conversations with all who attended. I gave the owner 10% of all art sales and the artists 75% of all art sales, while I took 15%. Everyone was happy because those percentages were better for everyone compared to the galleries or agent pricing.
My philosophy has always been that if everyone involved is happy that the venture or project cannot go wrong. I was proud to say that after only 3 months of art sales, Mezzanotte had sold more art out of a nightclub than all of the galleries in Syracuse combined. It was an excellent era! I look back and know that the Mezzanotte chapters in my life were some of my proudest memories in life.  It had been the 1st time in my 28 years that I was given the blessing to do whatever it was that I wanted to do. Not many artists and designers ever get that type of freedom. I was blessed.